DjVu to PDF converter

Free & Online. BETA version. Searchable PDFs!
---
Main
|
Features
|
Terms of service
|
About DjVu
|
DjVu Readers
|
Free Ebooks & More
DjVu Readers
Conversion always comes along with quality-losses, unless you are willing to put up with larger output files than the original document. Since DjVu documents perform pretty similar to PDFs and even are searchable in many cases (which is often forgotten) it might be a good choice to stick with the original document choosing an adequate viewer. There is a whole bunch of DjVu Viewers for nearly all operating systems available in the web, a small selection of which is presented here in brief:
---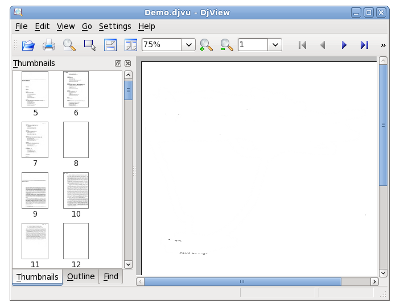 Many DjVu viewers available for free allow to deal
with DjVus like with PDFs.
DjView
DjView is a handsome DjVu reader which is available for free for the operating systems
Windows, Linux and Mac
. It allows to search DjVu documents and can display outline of the document and thumbnails of the the particular pages.
Download links:
Windows
Linux
Macintosh
WinDjView, MacDjView
Another useful tool which is offering about the same functionality as DjView. In addition it allows to highlight and copy text with the cursor what makes you feel like dealing with a PDF document. Also the user interface is pretty similar to most PDF readers. As the names already imply the software is available for Windows and MacOs.
Download links:
Windows & Macintosh
STDU Viewer
The STDU Viewer is a free (for non-commercial and educational use) and powerful document viewer which also supports DjVu. The software is available in different languages. It deals well with files which are equipped with a textlayer and therefore is useful if you want to export plain text from DjVu and other supported documents.
Download link:
Windows
X Djvu for iPhone and iPad (2.99 $)
Yes, you can read DjVu documents with your iPhone! X Djvu is an useful application which enables you to read DjVu documents with an iPhone or iPad offering a lot of different features. The reduced X Djvu Lite version can be downloaded for free for testing.
Download link:
iPhone, iPad
[Top]
---